5 Building Sustainability Practices for the Public Sector

Evelyn Woodland
·
3 minute read
Since the announcement of the UK government's Net Zero Strategy in late 2021, the need for a complete overhaul of how sectors operate has become increasingly apparent. Construction is one of the biggest industries with the UK economy, equating to 7% of total GDP. As the emissions produced by the construction industry have increased 45% in the last 30 years, the need for change is evident.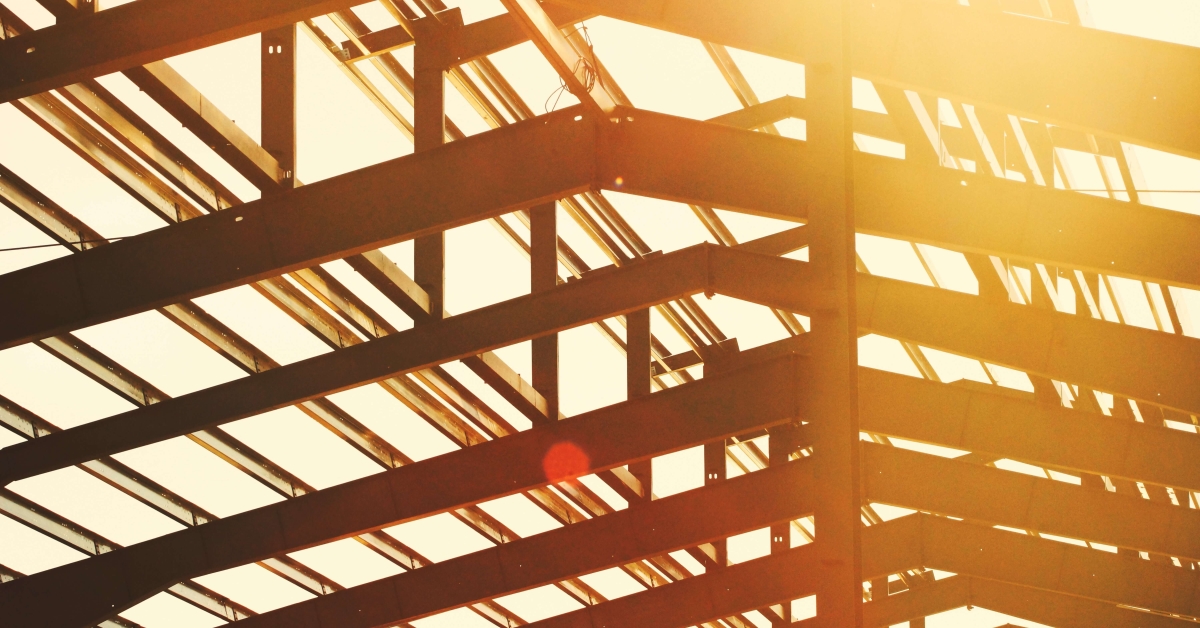 We look into the best practices for building and designing sustainable buildings, with a particular focus on construction for the public sector.
Why Is Sustainability So Important?
It's simple — society is running out of time to avoid catastrophic climate destruction. As a result of this, many global organisations have started to deploy regulations to tackle rising temperatures and negative climate impact.
The Paris Climate Agreement is a legally binding treaty that aims to limit global warming to 1.5 degrees Celsius compared to pre-industrial levels. The UK government followed suit with its Net Zero Strategy, outlining the UK's plan to decarbonise all sectors of the economy by 2050.
Public sector organisations should lead by example. But there are also several benefits that sustainable building practices present for the public sector.
Sustainable building practices will help build a better future for the planet, but they'll also create cost savings through the more efficient use of construction resources, materials and labour.
Net Zero Carbon Buildings Framework
The UKBC — a charity that establishes clarity, cohesion and leadership in the construction and property sector — has created a Net Zero Carbon Buildings Framework for construction organisations to follow to help improve the overall sustainability of the sector.
The framework aims to place responsibility on construction companies for their emissions, wastage and energy usage. It also attempts to improve the management transparency of construction emissions and encourage forward-thinking action to improve sustainability efforts over time.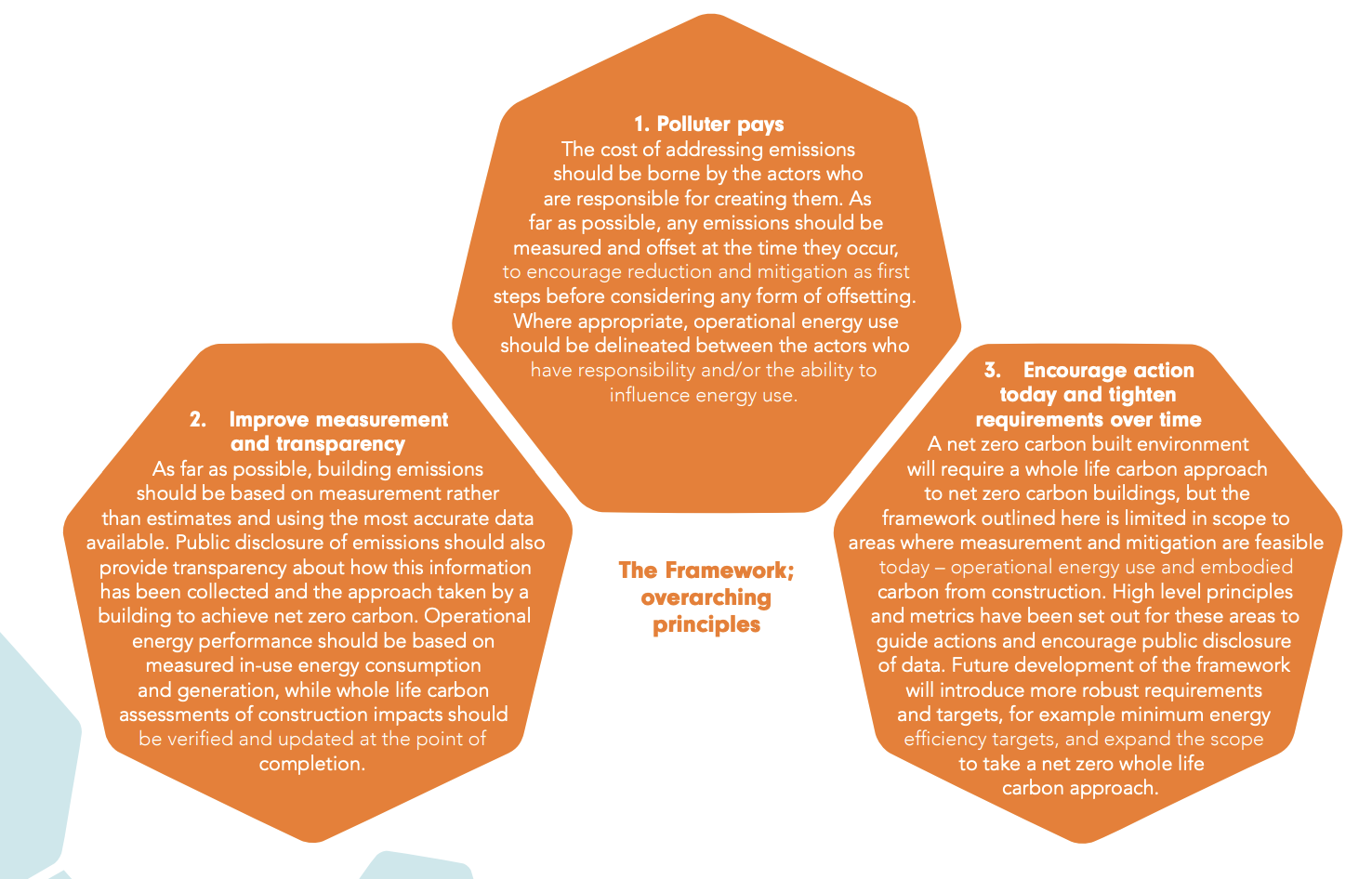 Credit: UKGBC
1. Modular Homes
A key sustainability practice for public sector construction is the use of modular homes for social housing projects. Modular homes are a type of prefabricated building manufactured off-site then installed in sections to build a finished dwelling.
Modular homes are often manufactured using sustainable materials and can be a much more affordable, quicker and energy-efficient way to build new homes. This shows how sustainability, cost and time savings can go hand in hand.
Not only that, but modular homes can also create sustainability opportunities for the end-user, reducing the overall environmental impact of a project from design to construction and end-use.
2. Improving Waste Management
Waste is one of the biggest sustainability challenges facing construction. The industry uses 400 million tonnes of material every year, making it the nation's largest consumer of natural resources. A large amount of these materials end up as waste. It's up to construction organisations to manage their waste and reduce its impact on the environment.
Zero Waste Scotland created a guide detailing how to improve waste management on construction sites, improving the overall sustainability of buildings that are procured and managed within public sector organisations.
The guide outlines practices to make the construction process more sustainable by designing out waste, minimising waste through procurement and the use of comprehensive site waste management plans.
The overall aim is to reduce and recycle waste and reuse materials by avoiding excess, rejecting damaged materials, engaging with waste contractors and keeping sustainability front and centre throughout the whole process.
3. Lean Manufacturing
Improving waste management naturally leads us on to the concept of lean manufacturing. Championed by Toyota in the 1930s, lean manufacturing has grown in popularity thanks to its time-efficient and cost-effective manner.
So how does this translate for the construction industry? Time and cost savings will be beneficial for public sector budgets, but it also helps enhance operational efficiency, lower inventory issues and reduce inaccuracies.
A key principle of lean manufacturing is to minimise waste, which we've already highlighted as a current issue for the construction industry. Reducing waste at every stage of the production process will help reduce the overall environmental impact of public sector buildings and optimise processes in the long run.
4. Considered Material Selection
To match the need for greater sustainability, there has been an increase in the availability of sustainable building materials. To decarbonise all sectors by 2050, sustainable materials procurement is central to meeting this goal.
Building frames can be created using FSC certified timber. Sheep's wool and recycled waste are being used for effective insulation. Bricks are being made of materials such as hempcrete and recycled glass.
These materials help reduce the amount of construction waste, but they also regenerate natural resources by using reusable materials.
5. Creating Sustainable Use Opportunities
While construction makes up a large part of the picture, it isn't the only factor to consider when addressing sustainable building practices.
Looking past the initial build process and considering the end use of the building is essential to ensuring sustainable opportunities that stand the test of time. Things to consider might be how energy efficient is the building? Is the building fit for end-use without future modifications? Has it been built to last?
By taking these factors into account, it ensures the construction process is environmentally friendly and the building itself, its occupiers and its end-use have a sustainable focus, too.
Join us for this year's Smart Asset & Estate Management Conference on December 8th 2022 at the QEII Centre in London. Smart 2022 is the ideal place for all public sector property professionals to get the latest policy updates and discover new initiatives around estate management, sustainable buildings, smarter working and the technology that enables them.