Sustainable Retrofit and its role in tackling the decarbonisation challenge

Dave Rowe
·
4 minute read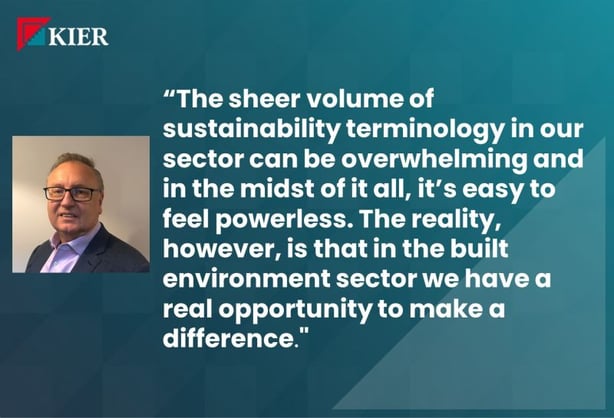 Dave Rowe, Technical Director at Kier explains the fundamental role retrofitting our homes and buildings will play in reducing carbon, and why he believes a holistic approach to retrofitting is required, if we are to tackle the decarbonisation challenge.
There's never a dull day when it comes to the sustainability agenda.
In the midst of it all, it's easy to feel overwhelmed, confused and sometimes powerless. The reality, however, is that in the built environment sector we have a real opportunity to make a difference – and government has set its targets accordingly.
To deliver we need to cut through the jargon and get to the crux of the issue – but let's be honest, the sheer volume of terminology in our sector can be overwhelming.
What does it all mean?
Net zero, retrofit, carbon reduction, and decarbonisation are all commonly used terms, but there is still plenty of confusion about what they mean. We want to remove that confusion for our clients.
Put simply, net zero is all about 'balancing' out any carbon we produce. We reach net zero when the amount of greenhouse gas we produce is no more than the amount removed by nature or captured by technology.
Carbon reduction is how you get there, and retrofitting is a means to do it – the importance of which is underlined by bodies including BRE, CIOB and RICS all calling for a retrofit strategy.
If we talk about zero carbon, we're referring to the fact that no emissions are produced from a product or service at all.
Decarbonisation is a more holistic term that focuses on all the different ways an organisation reduces its carbon footprint and its impact on the environment.
But even in its simplest terms, this variety of terminology can be too much. That's why at Kier we simply call it Sustainable Retrofit – providing tailored solutions to help local authorities, housing associations and businesses with their carbon reduction strategies.
What will happen to Government's net zero strategy now we have a new PM in place?
The new Prime Minister, Rishi Sunak has said he will deliver on net zero carbon emissions, adding his would be an "environmentally focused government". The Government's continued commitment to net zero is clear.
So, what are the challenges for the sector?
Meeting the government's carbon goals will require the vast majority of the UK's 27 million homes to be virtually zero carbon by 2050. And that's no mean feat. Non-residential buildings are affected too, required to achieve an EPC rating of C by 2027, and subsequently a rating of B by 2030.
With the huge difference in the UK's housing stock and public buildings, we have unique challenges to tackle carbon reduction – not least the need for funding and additional skills.
On funding, we are actively working with our public sector clients to help them navigate funding channels - there's more on that below.
We're also focused on recruitment, retention and upskilling. With an estimated 200,000 workers required to deliver on decarbonisation targets, we need to make sure we're creating the retrofit workforce of the future, now.
What advice do you have for housing associations or councils who are just starting on their decarbonisation plans?
Get a good strategy in place, gather data on your buildings, and understand that it is a journey, but there are plenty of steps you can take to make lasting changes. We can provide advice and support with accessing any applicable funding, whether this is a government grant or private funding package.
Kier is also part of many procurement frameworks offering safe, compliant, and quick routes to market for our customers.
There's lots of talk about retrofit in the housing sector, but what about public and commercial buildings?
That's a really important point – if we're to fully tackle carbon reduction, we need to look across the board. BEIS 2021 UK greenhouse gas emissions figures say that 2.4% of the UK's CO2 emissions come from natural gas heating of public buildings. The same research found around 19.1% of all UK carbon dioxide emissions come from the business sector. Meanwhile, RICS estimated that 1m non-domestic properties will require retrofit works. There's a long road ahead.
What's Kier doing in this space?
Ultimately this is about more energy efficient buildings, homes, and workplaces. We've got a wealth of experience working with both domestic and commercial landlords and use that experience and knowledge to apply an integrated and holistic approach, providing tailored solutions that fit with your carbon reduction strategy. As a business, we've acquired the new knowledge and processes associated with retrofitting and decarbonisation including PAS2030, PAS2035 (Domestic) and PAS2038 (Non-Domestic) standards, as well as the Trustmark accreditation.
Our project approach is a whole life one, taking our clients from initial building assessment through to design, co-ordination, delivery and ongoing monitoring and evaluation of building performance.
Our people are experts at what they do and are assigned projects that match seamlessly with their skills set and experience. Due to the breadth of services that Kier offers and the skills of the people in the Kier Group, we can offer our clients solutions of all types and at all scales. Our Utilities and Infrastructure businesses will be vital in the sector as decarbonisation scales up and other technologies emerge and become adopted by our clients.
When it comes to products, our service is fully compliant, producing tracked outcomes with low carbon, energy efficient solutions. We can also advise on offsite solutions through our Choice Factory offer.
Equally, we work with trusted partners and have an extensive local supply chain that offers fully compliant installation services.
Ultimately, none of us will successfully tackle decarbonisation and sustainable retrofit if we work in silos.
At Kier, we don't use confusing jargon or offer a 'one size fits all' solution. Instead, we're focused on working together with our clients to really get under the skin of their carbon reduction strategies and ensure we're collaborating – both across the Kier Group, and with our expert supply chain, to provide solutions that work.
Please feel free to get in touch with me at david.rowe@kier.co.uk or my colleague Matt Howells, Technical Decarbonisation Manager on matt.howells@kier.co.uk, to discuss further.
Join Kier at this year's Smart Asset & Estate Management Conference on December 8th 2022 at the QEII Centre in London. Smart 2022 is the ideal place for all public sector property professionals to get the latest policy updates and discover new initiatives around estate management, sustainable buildings, smarter working and the technology that enables them.