The Road to Sustainability: Offices and Estates

Evelyn Woodland
·
3 minute read
The role of the office has changed drastically, long gone are the cubicle jungles and managerial corner offices. With the changing role of the office, now is the ideal time to ensure that offices and public estates are becoming sustainable.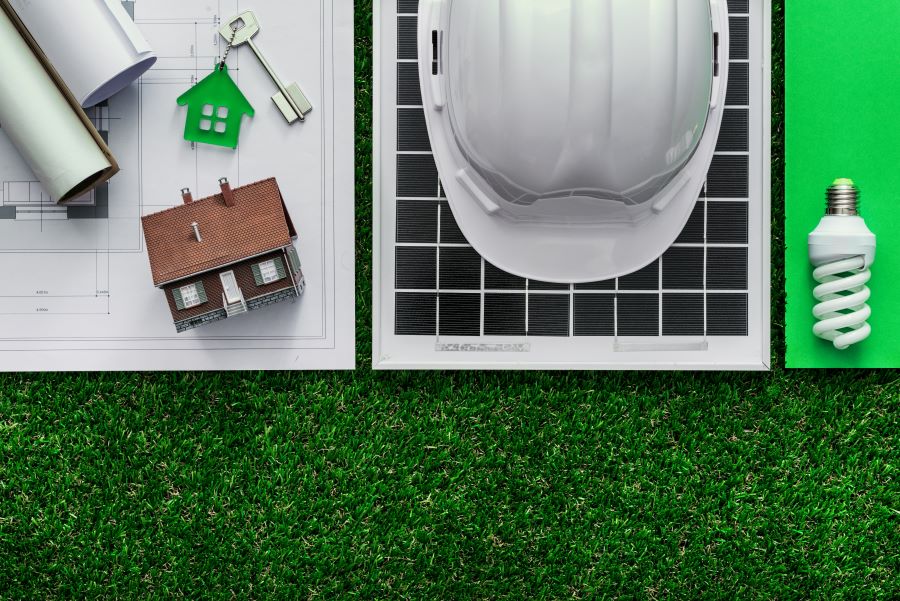 Central government and local authorities have a goal to be net-zero carbon by 2050, and this includes a massive public estate that needs to improve its sustainability. Katherine Wright, Deputy Director Public Sector and Local Energy, BEIS from the cabinet office reports,
"Direct emissions from public sector buildings currently account for 2% of UK greenhouse gas emissions, so cutting emissions from the public sector is a vital piece of the jigsaw."
Day to day operations of public sector property is key to meet sustainability aims but design and construction also play a major part.
Waste Minimisation & Increased Recycling
Waste minimisation can start at the construction and design phase for buildings. The UK Statistics on waste show that construction, demolition, and excavation generated 60% of total waste in 2018. However, of the 67.8 million tonnes of non-hazardous waste, 62.6 million tonnes of waste were recovered.
So, the industry is recovering 92.3% of waste. Any upgrades in building construction should use sustainable materials. Contractors can work with local suppliers to ensure faster delivery of additional material to reduce over-ordering. This can further reduce waste at the beginning of the building's lifecycle promoting more sustainable development.
Other practices include storing any excess material such as tiles or plasterboard and placing a priority for those materials to be reused in other projects. A simple, yet functional design aesthetic used across several projects will help reduce the problem of wasted materials
Adding recycling stations in workplaces help lessen general waste, but waste reduction and recycling must also occur in normal operations and the overall management of offices. The NHS is a prime example, while being responsible for 5% of the UK's carbon footprint, it's making strides to achieve waste minimisation.
Energy Consumption
Organisations that operate the public estate must demonstrate they are implementing energy-efficient changes in buildings and workplaces. The Net-Zero and Sustainability Design – Net Zero Annex published by the Government Property Agency recommends having not just energy-efficient lighting but also effective lighting design to ensure that certain areas get the right lighting. It also includes openable windows and allows for cross ventilation to assist in heating and cooling the workplace. Cross ventilation can also help mitigate the risk of spreading any airborne viruses.
Facilities management can also look to see if their suppliers are using renewable energy and be flexible to implement new technology when it is available. Hydrogen might be a future energy source and could be implemented in the UK's current gas grid. The NHS Property Agency has also implemented several strategies for the reduction of water usage. This includes being aware of water consumption, installing water-efficient systems such as low flushing toilets and investing in new technology such as water leak detection equipment.
New Technologies & Preserving the Old
At the heart of creating a more sustainable estate is utilising new technologies. The NHS Property Services is developing an electric vehicle strategy, to reduce carbon output to reduce greenhouse gases. Moving to a fleet of hybrid and electric cars is sustainable in two ways. It not only helps reduce the dependency on fossil fuels but in lowering the pollution and increasing air quality it may prevent deaths. Medical experts believe that 9000 deaths a year are from traffic pollution.
A lot of the public estate is also historically listed buildings. The Ministry of Defence is responsible for over 800 listed buildings, with areas of their estate falling within 10 UK World Heritage sites. To protect historical sites, the Ministry of Defence works closely with advisors such as Historic England, Historic Scotland and Cadw.
The MOD is also utilising buildings that have been unoccupied for years. For example the Cavalry Barracks, Hounslow was built in 1791 and had an undetermined future since 1926 and finally closed in 1992. In 1996 the site was reopened as temporary short-term accommodation. Then in 2008, the decision was made to make it permanent. Work was started to redecorated and updated the building to keep it open for the long term.
Creating a sustainable public estate must be a national programme in order to achieve a net-zero carbon goal by 2050. To find out more about the practices and strategies for creating a sustainable public estate join us for the Smart Asset & Estate Management Conference 2021. This year's conference is back in person on November 30th at the prestigious QEII Centre. This year's topics include:
The importance of the Public Sector Decarbonisation Scheme to drive down emissions from public buildings such as schools, hospitals and council buildings
Transforming the government estate to meet net-zero and sustainability targets, and contributing to the UK's net-zero 2050 target
How can we use new technology to manage the entire estate optimise the use of space and reduce cost?
Delivering Sustainable Places through Good Design and Good Place Making
How can we ensure we deliver innovative-fit properties for a net carbon future?
Join us for this year's Smart Asset & Estate Management Conference on December 8th 2022 at the QEII Centre in London. Smart 2022 is the ideal place for all public sector property professionals to get the latest policy updates and discover new initiatives around estate management, sustainable buildings, smarter working and the technology that enables them.