To keep children and young people safe in schools and colleges, you need to share information appropriately so the correct decisions can be made to protect them. This is why the government has outlined the seven golden rules for information sharing as safeguarding involves sensitive information which directly affects the welfare of children and young people.
However, clear boundaries around information sharing or disclosures are important to maintain confidentiality where appropriate. Underneath the seven golden rules for information sharing below, you'll also find a useful flowchart of key questions.
1. GDPR Isn't a Barrier to Sharing Information
With GDPR coming into effect in 2018, it's assumed that this statutory requirement doesn't allow you to share information. This isn't the case. The Data Protection Act isn't a barrier to sharing information but it provides a framework which ensures that personal information about living individuals is shared appropriately.
2. Be Open and Honest
You need to be open and honest with the child, young person and/or their family where appropriate about why, what, how and with who you will or could share information with. You also need to seek their agreement unless it's inappropriate or unsafe to do so.
3. Seek Advice
If you're ever in any doubt about sharing or disclosing the information concerned, seek advice from other practitioners such as your school or college's Designated Safeguarding Lead (DSL). You should try to do this without disclosing the identity of the individual where possible.
4. Share With Consent Where Appropriate
Where possible, respect the wishes of those who don't give consent for you to share their confidential information. However, depending on the nature of the situation and what a child or young person has disclosed, you may still share information without consent.
This is if there's a good reason to do so in your judgement, such as where safety can be at risk.
5. Consider Safety and Wellbeing
Base your information sharing decisions on considerations of the safety and wellbeing of the child or young person - as well as anyone else who may be affected by their actions.
6. Necessary, Proportionate, Relevant, Adequate, Accurate, Timely and Secure
Ensure the information you share is necessary for the purpose for which you share it. You should share it only with those people who need to have it, your information is accurate, up-to-date, shared in a timely fashion and also shared securely.
7. Keep a Record
Regardless of the decision you make, keep a record of it and the reasons why you made that decision. If you decide to share following a disclosure, then record what you've shared, with who and for what purpose.
Even with the government's seven golden rules for sharing information, it can be challenging in a real-life situation when you need to make the tough decision on whether or not you should share information.
To help make that process easier, here's a flowchart of key questions for information sharing to help you make the right call if you're ever in that situation.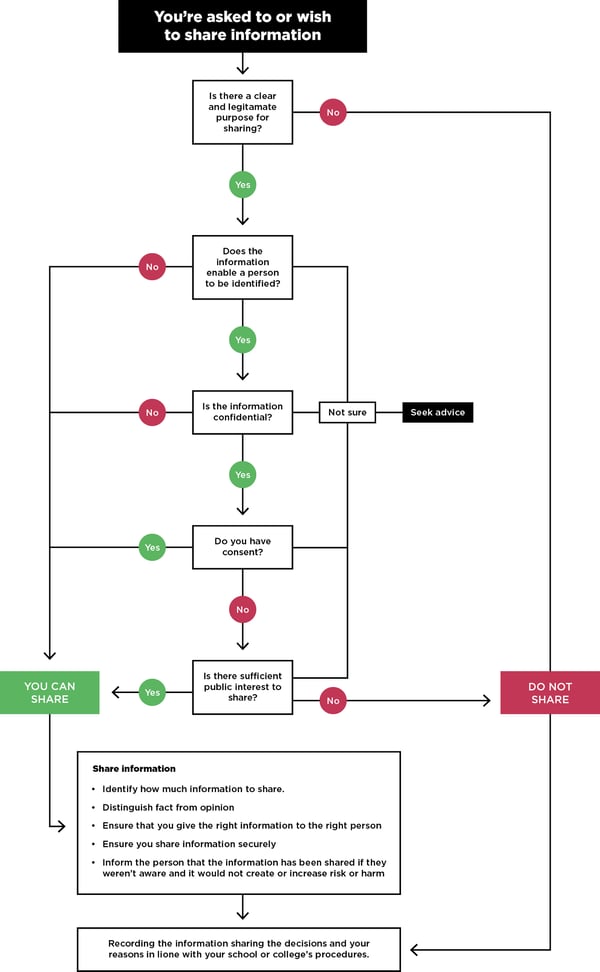 Information sharing is just one area of safeguarding. Although these conversations can be tough, it's vital you're fully prepared on all things safeguarding so you know the correct steps to take. With so much information floating around online, it can be challenging to take it all in and remember it.
To help, we've created the safeguarding handbook full of all the essential information you'll need.
Get Your Safeguarding Handbook
By clicking the link below, you'll get access to your all-in-one, go-to resource for all things safeguarding. From how to prepare for disclosures, what to do during one, spotting signs of abuse, the legalities and so much more, it's all in there.
Get your copy now.