Paul Grainge, Chief Officer at Recoop, works to promotes the care, resettlement and rehabilitation of older prisoners, offenders and ex-offenders, particularly the over-50s. Here he explores what this means for the COVID-era, and the measures required to keep this demographic safe.
The nation has been in lockdown and we hear of the excellent work happening in our communities, the shout-outs to all the heroes, who, in their ways, both great and small, have come up trumps to help neighbours, friends and families in need; all those making PPE and volunteering their help during this time of crisis and of course the emergency services the NHS, and frontline workers, all of whom we want to save and show our support for.
What you don't hear though is that in prison, some of those incarcerated too are shining out as heroes and pulling together to make prison a caring community, working alongside wing officers, health and social care staff and on the front line supporting those shielding and at risk of death should they catch Covid-19. These unsung heroes are called 'Buddies'.
Recoop first started training Buddies in 2009, expanding the training as need was identified. Buddies continue to be trained by Recoop to National Care Certificate Standards to support fellow prisoners with the day-to-day challenges they face within an often difficult environment. The training now extends through to palliative care and end-of-life care as dying in prison became a reality for more individuals.
At the outbreak of the pandemic, Buddies too stepped up to the plate (albeit a blue plastic one) and have worked tirelessly, seven days a week, supporting the most vulnerable prisoners. With extra training, in the correct health and safety use of PPE when working with shielded individuals, they have worked alongside, becoming team members with healthcare providers and wing officers. This partnership has really come into its own with staff and prisoners working side by side and all parties expressing appreciation of the other.
One custodial manager wrote:
"I consider the Buddies to be vital to the work we do. I simply cannot begin to imagine how we would cope without them. This is true even more so during the difficult times we currently face."
Despite the vaccination roll out and communities looking forward to restrictions being lifted, we are not out of the woods yet... there are new difficulties emerging and problems ahead.
Whilst the strict lockdown measures have been successful in controlling the virus in this high risk home to many vulnerable people, Recoop is concerned that being locked up in lockdown has hit hard. Particularly hard hit are those many prisoners who already suffered from poorer mental and physical health. We have yet to see how the long periods of solitary confinement has contributed to a further deterioration in their health. However, we are starting to see examples of deconditioning resulting from a year stuck behind their doors. As movements are severely restricted and visits, workshops and education still on hold, the full longer term consequences are yet to be realised.
We do know that there will be demand for additional support and hope that similar formalised peer-led support models are introduced in far more prisons. What better way to empower individuals to learn new skills, find their inner compassion and give something back to aid those most in need in prisons. There are lots of gaps in support and opportunities to be innovative even during lockdown.
Over the last few months we have developed a range of wing based interventions and activities to help reintroduce carefully measured social interaction, tackle solation and increase wellbeing and healthy lifestyle opportunities. These are being delivered and led by both Buddies and staff. Our 'On Track' Land's End to John O'Groats Step Challenge is being particularly well received. We're hearing of some healthy competition and team events to get healthier activities going as regimes slowly start to open up again. We hope that these new behavioural traits can become habit forming and aid all on their transition back into the community.
In this last year the needs of older people in prison have never become more urgent. We were delighted and relieved that the Justice Committee's report from their recent inquiry in 2020 has resulted in the Ministry of Justice agreeing to develop and implement an 'Older Offender' national strategy across England and Wales.
Although the pandemic-tainted backdrop has been very dark, there is light ahead for the first time. After years of advocacy and campaigning, we can finally visualise a time where there might be regime adaptations that support the ability to provide a sense of purpose and belonging to older prisoners; a regime that offers meaningful and purposeful activity in settings that are conducive to helping individuals maintain their independence and build their self-esteem and confidence, and uphold their right to health and social care.
This in turn will strengthen the pathway from pre to post release. For the first time we are starting to see the older criminal justice cohort named as a specific group in the same way that women and young people are in new tendering service specifications. We hope that more community based services will upskill staff and increase provision to meet the needs of this growing group. Their orientation and social care requirements will become more complex on release in the coming months. A new focus, along with a warm smile and desire to try and help will go a long way to reduce the fear and anxiety that can be so debilitating for older and long sentenced individuals on release.
Paul Grainge is the Chief Officer at Recoop. Recoop, founded in 2010, promotes the care, resettlement and rehabilitation of older prisoners, offenders and ex-offenders, particularly the over-50s. This is done through the provision of carefully-designed support services, advocacy, financial advice, mentoring on employment and training and advice on housing and health and crucially, retirement. The organisation provides consultancy, training and direct support services for prisons, working with them to explore innovative and low cost solutions to challenges posed by the growing elderly prison population. Reach out to learn more via info@recoop.org.uk or contact the team on 01202 410500.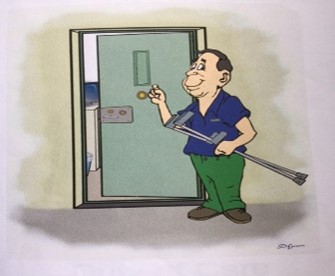 Image drawn by a RECOOP service user.
Learn more from leaders across the criminal justice sector via our IG Crime Hub.