Modular Housing: A Green Approach for Housing Associations
Bailey Bidnall
·
4 minute read
Housing associations are facing some of the biggest challenges of the 21st century. There's a need to provide affordable housing at a growing rate while sticking within financial and sustainability constraints. But how can this be achieved?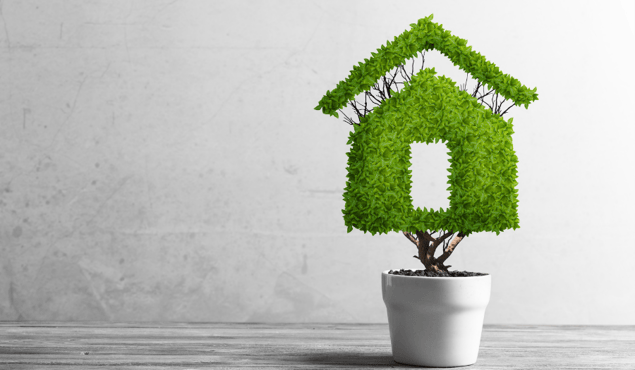 Modular housing presents many opportunities for UK housing associations, whether that be cost-saving benefits, increasing the ability to meet the UK net-zero target by 2050 and enabling public bodies to meet the ever-growing demand of the public.
We look at the modular construction concept, its benefits and its challenges in more detail.
What Are Modular Homes?
Modular homes are a type of prefabricated home an external manufacturer produces then installs in sections — or modules — on-site to build a finished dwelling. This is in contrast to the traditional method of building houses out of bricks and mortar, on-site, from start to finish.
Some UK housing associations have already signed contracts with modular housing companies to help them deliver homes, meet sustainability needs and achieve targets, showing it's a viable option that can produce effective results.
Modular homes have many benefits. They can be more affordable, quicker to build, more eco-friendly and energy-efficient.
The Impact of Modular Housing for UK Housing Associations
The UK is currently in the midst of a social housing crisis. A lack of investment, ageing buildings, increased demolitions and no new developments have resulted in 1 in 10 households being stuck on council waiting lists for over five years.
As it stands, the UK needs 150,000 new social housing units being built every year to meet demand. However, the output is only 4.4% of that figure. As the need for social housing reaches a boiling point — particularly in the wake of the pandemic — could modular housing be the answer?
Add to that the greater need for green homes, accelerated by the UK's net-zero target by 2050, the case for investing in modular social housing keeps building.
We look at the opportunities and challenges presented by modular housing for UK housing associations.
Sustainability Opportunities
As the UK races towards its net-zero emissions target by 2050, every industry, including public housing associations, must turn its attention to becoming more sustainable.
This is perhaps one of the biggest positives of modular housing for UK housing associations. For several reasons, green modular housing can often be far more sustainable than traditional building techniques.
The first is that eco-friendly materials are instrumental in the modular building process. Whether it's an increased focus on effective insulation or the use of FSC-approved timbers and sustainably sourced steel, modular housing has sustainability rooted at its core.
In addition to this, the modular building process also can radically reduce the overall wastage of construction materials. Modular homes are built off-site in a factory, where the ability to reuse and repurpose materials is increased, reducing the amount of materials heading to landfill and contributing to increased carbon emissions.
In contrast, the traditional on-site building method faces many variables and challenges that can result in increased waste of materials, whether through human error, weather implications or contractor reliability.
As it stands, the construction industry uses 400 million tonnes of materials every year, making it the nation's largest consumer of natural resources. Green modular homes can drastically reduce this number, increasing the sustainability of social housing in the UK if this method is widely adopted.
Energy Consumption
Energy consumption is a hot topic in the UK. It needs to be addressed for the country to meet its mid-century decarbonisation target. Homes account for 15% of the UK's carbon emissions and this number needs to be tackled.
On top of this, the UK's current energy crisis — where household bills are set to increase by 54% in April 2022 — is making the need for energy-efficient homes more critical than ever before.
This is where green modular housing comes in. Energy consumption is considered throughout the modular building process, focusing on insulation, low-energy alternatives and sustainable materials.
The manufacturing process itself is also far more energy-efficient. As modular construction occurs in a controlled environment, the building process requires a fraction of the energy needed on a physical site. An assembly line, integrated builds and less waste help reduce the energy used and time needed to build new homes.
Not only does the reduction in energy consumption impact positively on emissions, but it'll also help reduce the costs of construction, providing a financial benefit for housing associations. The need to meet the target of all houses having an EPC C rating by 2035 further strengthens the need for eco-conscious construction methods.
Cost-Savings
One of the most critical considerations for housing associations is cost. They aim to produce and provide affordable social housing quickly and efficiently to meet the growing demand from the public.
Modular housing presents several opportunities for cost savings and is generally a cheaper alternative to traditional construction methods.
On the whole, modular houses are quicker to build. Due to the manufacture of modules on a production line and the ability to build sections quickly on-site, this reduces the overall cost of builds and offers greater capabilities to meet the growing demand for social housing.
Modular houses are also cheaper to build. They take less time to construct, require less labour to produce and consume less energy in the manufacturing process, helping reduce the overall cost of building social housing.
Reusability and Increasing Availability
The demolition of housing puts further pressure on housing associations as the demand for social housing outweighs the supply. So how can modular housing help combat this issue?
Modular housing helps to future-proof homes. As modular houses are made out of sections, they're easily transportable, can be relocated and are also easier to replace. If just one area needs replacing, this can be done easily without re-building the structure from scratch.
Not only does this method increase the reusability and lifespan of homes, but it also improves availability. By offering the opportunity to build homes quickly and easily, modular building methods can increase the availability of houses for housing associations and the public.
Risks and Challenges
Although modular technologies have the potential to tackle the UK housing crisis and open up opportunities for housing associations, it's essential the risks and challenges are also addressed.
One of the critical challenges of modular housing is there's little evidence of proven benefits. Modular housing is a relatively new concept within the UK, meaning there's insufficient evidence concerning the short and long-term financial benefits.
For housing associations, funding is already tight and the need to deliver homes effectively, efficiently and with limited risk is paramount. The lack of evidence could make modular construction methods a big risk for housing associations that might not necessarily pay off.
In addition to this, moving to modular construction methods requires a seismic shift for all parties involved. Consumer perceptions will have to move away from the norm, the adoption of new business models may be required for social housing bodies and a large initial investment will be needed for a modular housing project to succeed.
Although there are many benefits presented to social housing by modular concepts, there will need to be increased investment, support, and funds available for housing associations to meet the demands of the public in a timely and effective manner.
Looking to Find Out More About Green Opportunities for UK Housing Associations?
Then why not join our next event? At the Future of Housing conference, we aim to unite leadership teams, policymakers and influential figures from across the UK to achieve results.
We'll cover everything from digital transformation, decarbonisation, demand and supply, and tenant engagement, leaving you with the tools and information you need to succeed.
To register your interest, simply click the link below.