Inspiring young people to become mental health champions within their schools can help to reduce the number of students experiencing mental health issues.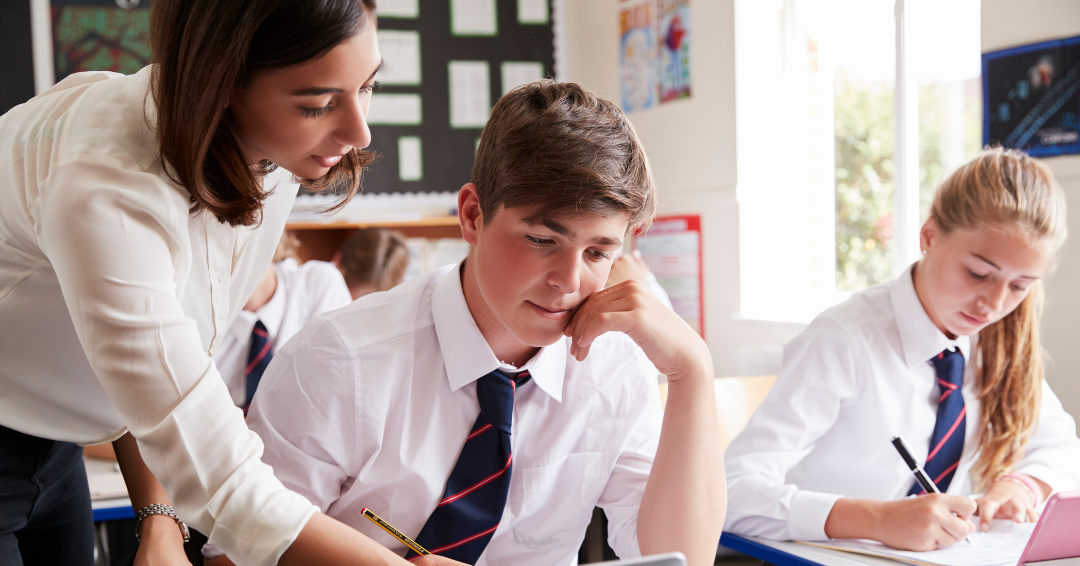 Since the Covid-19 pandemic, an estimated one in six children have a probable mental health disorder, with feelings of stress and anxiety more common than ever.
So, how can empowering students to become mental health champions within their schools help to mitigate these issues?


Mental Health Champions: Why Are They Important?
Despite mental health being an increasingly important issue in schools since the pandemic, many schools lack the resources or support to create environments that nurture positive mental health.
Fostering a culture of mental health awareness and introducing proactive strategies can have a powerful impact on students needing help.
With 95% of school staff in the UK noticing an increased level of anxiety among pupils since the start of the school year, steps should be taken to open up conversations around mental health among students.
By empowering young people to become mental health champions in their school, you can create a positive atmosphere that encourages open conversations about mental health and support those who need it.
Promoting healthy habits and fostering an environment of acceptance and understanding can lead mental health champions to act as advocates for their peers, raising awareness of the importance of good mental wellbeing.


How to Empower Students When It Comes to Mental Health
There are many practical ways to empower young people to become mental health champions in your school. Here are a few target areas to get you started.
Mental Health Initiatives
Encourage students to get involved in school initiatives around mental health. Have students participate in peer-led initiatives such as organising classroom sessions or events to raise awareness about mental health issues.
Readily Available Support
Ensure appropriate resources are available for students who need help with their mental wellbeing. Have staff members specialising in youth counselling available during lunchtime or after-school hours so students can comfortably discuss any issues they may face privately.
Nominate Ambassadors
Encourage leadership skills among younger students by appointing them as 'Mental Health Ambassadors' who will share information about managing stress and anxiety with their peers, assisted by teacher resources.

It isn't only students who can become mental health champions within schools. Teachers with a passion for reducing the number of mental health issues can support ambassadors and initiatives.

Plus, teachers can provide additional support if student ambassadors begin to feel any effects of poor mental health.
Detect Potential Issues Early
Look to detect signs of emotional distress early on, so you can implement appropriate interventions quickly to prevent any long-term effects on the student's wellbeing. Hold mental health sessions within the classroom to try and identify any potential issues that may arise.


Why Is a Focus on Mental Health Important in Schools?
A proactive approach towards fostering a positive mental health environment from an early age can significantly impact a student's future.
By encouraging open conversations about mental health, you'll teach students to care about others' needs and normalise discussions around mental health complications.
With 50% of all mental health problems starting by the age of 14, implementing as many positive mental health initiatives as possible across schools could considerably impact the country's future.
Breaking down the stigma around mental health and encouraging conversations across schools nationwide can have long-term effects on a student's wellbeing. Teachings on how to deal with mental health issues can make pupils more resilient to future complications and protect them from any problems which may arise in the years ahead.
How to Take a Whole School Approach to Mental Health
Implementing a school-wide approach to fostering positive mental health can be difficult.
With the education sector experiencing a mental health crisis, the time to do so is now. But how can you go about this with limited resources and support?
Our online course — Implementing a Whole School Approach to Positive Mental Health and Wellbeing — is a training day which provides practical initiatives you can implement across your school to improve peer-to-peer support and create a greater sense of community.
You'll learn the fundamental principles of a school-wide approach to mental health and wellbeing, strategies to support pupils and staff, and a framework for monitoring and evaluating your whole school approach to mental health.
Follow the link below to learn more about the course or register your place.