Are you interested in learning about how to maximise the impact of your EAL Department on student learning?
If so, click on this ready-made presentation below, put together by EAL expert Christina Shala, guiding you through a simple three-step process that will assist you in:
establishing your department's vision
accessing the curriculums you wish to support
implementing your programme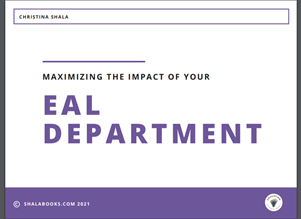 Feel free to use any or all of the provided slides within your own EAL Department, and if you feel you would like further guidance, you can contact Christina directly.
This presentation will be utilised as a resource at our EAL Teaching and Learning Conference in June 2021, where Christina will be joining an interactive discussion panel.
*This post was originally published on Christina's website, Shala Books.
You can find further resources and new, innovative ideas to support teaching and learning in your school in the IG Schools Teaching and Learning Handbook.
Click below to download for free now.