Jen Fenner, MD of DefProc an engineering and design firm based in Liverpool, discusses how her team is tackling loneliness during COVID-19. Their app and device, Push to Talk, enables conversations between some of the most vulnerable people in local communities.
Loneliness is one of the biggest challenges faced by health and social care. According to the Campaign to End Loneliness, over 9 million people in the UK say they are always or often lonely — that's a shocking fifth of the population. A third indicated they felt uncomfortable talking or admitting to their loneliness. The consortium we were part of wanted to play an active role in tackling the issue head on.
How Push to Talk happened
Push to Talk happened as we are a consortium partner with the Liverpool 5G health and Social Care Testbed. We worked in partnership with Liverpool City Council, Liverpool John Moores University, Liverpool University, The Royal Liverpool NHS Hospital, E-health Cluster and other SMEs as part of the Department for Digital, Culture, Media and Sport funded project.
One of the biggest challenges faced by local authorities dealing with loneliness is that the solutions presented are often dependent on the Voluntary, Community and Social Enterprise sector (VCSE). The support available can vary hugely, depending on the postcode someone in need lives in. The need for human interaction is innate in all of us and we wanted our response to use digital technology to combat loneliness in one of the most deprived areas in Liverpool, Kensington and Fairfield, enabling us to reach people who needed it most.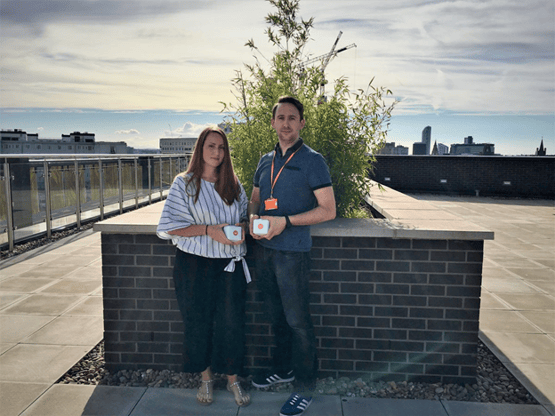 How does Push to Talk work?
Push to Talk is a device that enables people to have a conversation at the push of a button. The device works using Long Range Wide Area Network (LoRaWAN). LoRaWAN is a network that consists of gateways mounted on buildings, they can receive a small amount of data over a long range radio signal from devices up to 2km away. This technology allows for data to be sent from a device to the internet without Bluetooth, mobile data, Wi-Fi or broadband.
Once installed in someone's home, if someone wants to talk to another person on the network they simply press the top of the unit and they are connected to another person within the network's community. For the call to connect, they both have had to have pressed their devices. The device predominantly is geared towards those cut off from regular social interactions either due to age or caring for other vulnerable people. One of our first test groups were unpaid carers who often found it hard to meet new people.
How Push to Talk is responding to COVID-19
We're proud to say we're working with social care providers Local Solutions to help bring Push to Talk into use during COVID-19. We're also in conversations with local councils to ensure the device and app is available to those that need it most. Whilst we're starting in Liverpool our ambition is to take the project to a national-level so we can have the most impact possible. Push to Talk can be used just as the device or as the app so it helps to open a wider conversation with a larger audience when people need it most.