Change within government can be challenging. Traditional ways of working, barriers to change and lack of investment can all impact the ability to adjust within the public sector. But change is inevitable, particularly within IT as the world continues to digitally develop.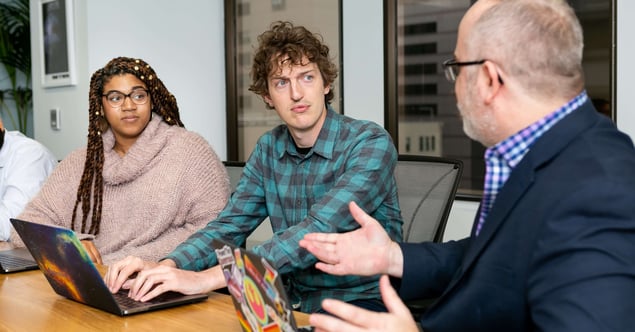 That's where transformational leadership comes in. Developed in the 1970s, transformational leadership isn't a new concept, but it can completely transform how government works.
What Is Transformational Leadership?
Transformational leadership focuses on leaders who encourage, inspire and motivate employees to innovate and change the future success of an organisation. It's about empowering everybody within your sector to work towards a shared vision to enable success while future-proofing and developing your processes along the way.
In this article, we look into why transformational leadership is essential, some of the critical barriers to change within government and the fundamental principles of transformational leadership.
Why Is Transformational Leadership Important?
Transformational leadership can completely change how organisations operate for the better. It encourages employees' accountability, ownership and workplace autonomy — all factors of a positive culture essential for future growth.
Processes within government are historically quite structured, whereas concepts such as transformational leadership allow for more fluid and responsive actions to changes that may arise, making the sector more agile and innovative.
By investing in transformational leadership, the government and public sector will enable long-term growth and also attract, build and retain the right talent for a motivated and efficient workforce.
What Are Some of the Barriers to Change In Government?
No matter the organisation, there will always be barriers to change that need to be overcome.
One of the biggest challenges within the government will be changing the historical ways of working and getting employees invested in that change. Through transformational leadership and leading by example, employees should feel empowered and inspired to adapt for the better.
Time is often a factor that influences change, mainly when there's a shortage. Senior figures within government and the public sector may struggle to find the time to create an effective and efficient transformational leadership strategy. However, this leadership style can save time in the long run.
A lack of awareness and, therefore, the availability of investment may be another critical blocker. Actioning transformational leadership will need money and time investment to make it effective. However, it will soon produce a return, particularly in future-proofing ways of working.
The Four I's of Transformational Leadership
The fundamental principles of transformational leadership are outlined by the four Is — idealised influence, inspirational motivation, intellectual stimulation and individual consideration.
Idealised Influence
Idealised influence is essentially leading by example. As a transformational leader, you should embody what you're trying to achieve, making it easier for employees to buy into the change you're trying to make.



Inspirational Motivation
Inspirational motivation is relatively self-explanatory. It's the ability to inspire and motivate your team to achieve. It's about communicating and committing to your goals, as well as engaging your employees to work towards them.
This principle gives employees a strong sense of purpose, which in turn, gives them the drive to achieve. Changes within the public sector can be complex, particularly if there have been set ways of working in the past, but it isn't impossible when you inspire your employees to achieve the precise goals you've set.
Intellectual Stimulation
Intellectual stimulation is the idea of thinking outside the norm and tackling the status quo. This is particularly fitting for the public sector and government, as it challenges 'the way that we've always done things' to bring about positive change for the future.
Individual Consideration
Having a positive workplace culture is a vital part of transformational leadership and involving every individual in the aims and goals of the organisation will lead to overall success.
Focusing on professional development, effective teamwork, positive relationships and inspirational leadership — rather than your usual top-down hierarchy — will change the way the public sector works for the better.
The Outcomes of Transformational Leadership in Government
Creating transformational leadership within government will lead to a motivated, efficient and effective team that can react and be agile in the face of future change.
Transformational leadership not only empowers and inspires employees but also creates a shared vision, greater responsibility, increased exchange of knowledge and ideas, which all contributes towards growth and success.
Carry On the Conversation
If you're in the digital government sphere and you're looking to connect with like-minded professionals, then we have the event for you. Our Digital Government Conference is back for 2022. Register your interest by clicking the link below.