We all know it's important to raise awareness of the current issues in emergency care. But, there's something of a dichotomy in the way we do so. While countless media headlines deplore the "NHS winter crisis" and puts the state of the NHS firmly in the public consciousness, they rarely do justice to the real problems frontline staff have to contend with. Where the mainstream media fall short, we need to not only keep the conversation going, but to ensure it remains relevant, practicable and impactful in the real world.
Introducing Crisis Point: A Day in A&E
This includes encouraging peripheral organisations in their attempts to add to the conversation. Specialist lawyers Bolt Burdon Kemp recently released a new interactive challenge titled "Crisis Point: A Day in A&E". The project attempts to simulate life in A&E to highlight the immense pressures that emergency staff are under every day. You're placed in a nondescript emergency department in the UK and asked to make the right patient care, staffing and triage decisions to keep the emergency department running smoothly. As you play, an 'A&E status' indicator (based on the OPEL system and the fated 4 hour government targets) tracks your progress.
Highlighting Issues in Emergency Care
The simulation touches on a fair few issues that emergency care staff would be intimately familiar with. We've highlighted a couple of them below: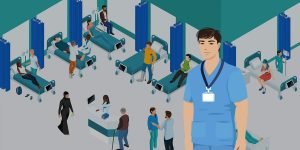 A Dangerous Patient-to-Staff Ratio
A report by the Kings Fund found data from NHS England suggested occupancy across England was at unmanageable levels the majority of the year. We know from experience that patient attendance at A&Es are increasing every year.
What is lacking, however, is the staff infrastructure to cope with this increased demand. A lack of qualified staff presents a dangerous situation within emergency care, where critical patients or conditions might be missed or neglected despite the efforts of over-stretched staff.
Hiring more people would be the obvious solution, but this is easier said than done. Any recruitment efforts would need to consider why staff are leaving just as much as it focuses on recruiting new candidates.
Ill-Conceived Government Targets
When first introduced in 2003, the four-hour government targets saw a dramatic, encouraging drop in patient wait times. In the present day, however, these targets have become less effective.
Out of 139 NHS England trusts, only 3 stayed within the 4-hour target for the whole of last year. When patients are reduced to a number on a flashing board, it can distract staff from what they were trained for: delivering excellent frontline care to critically ill or immensely worried patients.
We need an institutional rethink in our approach to patient care in emergency departments, while simultaneously ensuring crucial provisions and funding are made available earlier. As the 2017/18 NHS review of winter 2017/18 noted, "Funding for winter, though immensely helpful, arrived in late November making it harder for trusts to plan [ahead]."
Of course, no simulation can truly encapsulate the complex, varied and indelible issues that currently permeate life in emergency care. We need to take a holistic approach to solving the "NHS crisis", taking into account every single touchpoint within every department. The Urgent and Emergency Care Conference 2019, held in London on 2 July 2019, aims to provide a platform to do just that. We invite NHS providers, emergency care staff and other healthcare professionals within (and outside of) emergency care to come together to explore all those issues in detail. Book your place here: https://erc.pmgltd.co.uk/Store/Register/2685.
This blog was written by Hasna Haidar, a freelance copywriter, covering topics in education, health and technology. All insights for this campaign are coming from A&E staff members working in London and the UK, which have agreed to contribute anonymously with insights based on their experience.