Understanding and Measuring Patient Experiences of Care
James Sommerville
·
3 minute read
Jenny King is the Chief Research Officer at Picker Institute Europe, an international charity working across health and social care to improve person centred care. She is responsible for overseeing the development and coordination of large scale research and evaluation projects. This includes the Cancer Patient Experience Survey and the NHS Staff Survey run on behalf of NHS England and NHS Improvement. Jenny will be hosting a breakout discussion on Implementing Patient Feedback at The Hospital Standards Conference.
Measure what matters from the user perspective
The highest quality person centred care for all, always. That is the goal. Health and social care services need to be person centred in order to deliver high quality care. And the best way of understanding the quality of person centred care is to listen to and learn from the experiences of patients and service users, their carers and their family members.
Lord Darzi noted in his 2008 review of the NHS "Patient experience is the most powerful lever…and will be used for service improvement". Measuring user experience through a person centred lens is vital and at Picker our Principles, developed through original research, present eight dimensions of care that are most important to people.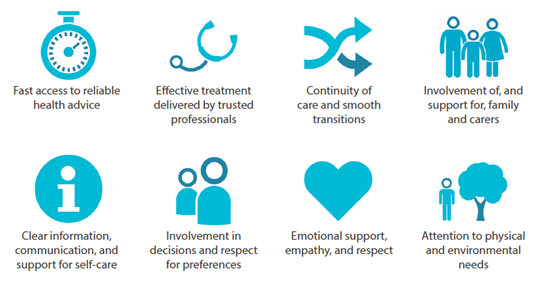 These Principles put people at the heart of care provision. They are the fundamental building blocks from which people's values, preferences and expressed needs can be explored. They cover both relational and transactional aspects of care demonstrating the importance of a holistic approach to understanding needs. The Principles highlight why at an individual level it is important for you to ask people "What matters to you?" so that care can be tailored and designed in partnership.
This is demonstrated in a recent paper by Elizabeth O'Riordan, a Consultant Breast Surgeon with breast cancer, where she shares lessons she learned about what it is really like for cancer patients and the importance of understanding the person behind the cancer and their experiences in order to provide quality care.
Work in partnership
Working in partnership with users is not only important for improving individual patient care experiences and outcomes but for implementing wider service improvements. Research has found that to achieve excellence in person centred care, involvement of users at multiple levels, not just in care delivery, but as full participants is key. The Always Events® programme led by NHS England and NHS Improvement, a model for co-production, recognises this. It is a model which seeks to understand what really matters to people and which has people as a core part of the care team implementing change.
The work of Marie Therese House, a neurological rehabilitation unit at the Royal Cornwall Hospitals NHS Trust, is a great example of putting co-production into action. They set out to improve information and communication about the unit and found that through co-production they not only achieved that goal but also saw that people experienced positive outcomes as a result of their involvement in the Always Events.
Working in partnership with users with a focus on matters to them will support you to make person centred improvements.

Use a range of tools to hear from users
There are a number of tools providers and commissioners can draw upon to help them understand the success of change as a result of co-production and the quality of user experience. Often a range of tools are needed to paint a full picture of quality and to ensure voices are heard from different communities and populations. Beware anyone who says there is one best method to collecting feedback! Typically, the strengths and weaknesses of different methods are complementary.
An excellent new resource by Picker and The King's Fund provides support for people who are thinking about measuring, monitoring, and understanding people's experiences. Focusing on understanding experiences of integrated care, it provides a framework to ensure that people's voices are central to how integrated care works. A useful decision tree sets out which tools to use and when, from surveys to qualitative methods, supporting stakeholders to choose an approach that fits best with priorities.
Whatever the approach chosen, it is important to remember that many staff at the frontline of providing person centred care may not be familiar with quantitative and qualitive research methods. User feedback needs to be accessible, actionable, and relevant in order for it to be used by all staff for quality improvement.
By making user experience a priority for all by focusing on what matters and including the user voice in decisions about health and care delivery, we can continue to improve the ability of health services to meet people's needs and enhance the quality of care.