Student wellbeing is at the top of many people's agendas in the sphere of higher education. The latest mental health statistics from the Insight Network found that 42.8% of the students that answered describe themselves as often or always worried. Even more have said they struggle with feelings of anxiety.
To reduce these feelings among students and boost happiness, you need to implement creative wellbeing initiatives. Here are some of our suggestions to get you started.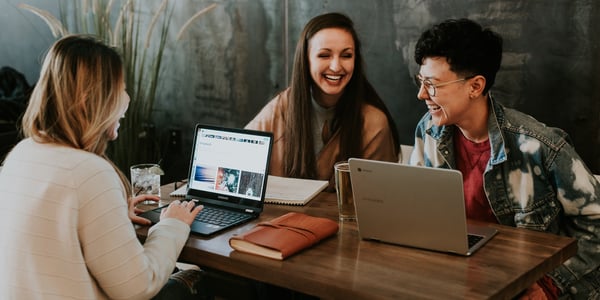 Image Credit
1. Start a Mentor Programme
It's always good to talk to someone about what you're going through. Start a mentor/buddy programme and pair individuals who are feeling stressed or worried with older students who've been in their shoes. They can offer unique insight and advice that might boost the worried student's happiness.
2. Free Yoga Classes
Yoga has been proven to help with mindfulness, improve a person's sleep and boost happiness. Run free yoga classes and encourage students to attend. Even if they've never tried to before, the results will be positive and it's a chance for students who might be feeling isolated to socialise with others.
3. Walking Groups
Encouraging students to create walking groups is a simple way of boosting student happiness. These walks can be around the city or local town to explore historical sites. Or, they could be through forests and fields, giving students a much-needed peaceful break in nature.
4. Outdoor Film Nights
Film nights are already a great way of bringing people together in a fun way. Why not take the experience outside under the stars? Weather permitting of course! It's a unique and memorable night for everyone who attends. You could make the nights a regular thing and have themes.
A spooky film in October could be just the break someone needs from their busy schedule.
5. Celebrate Mental Health Awareness Week
By celebrating a week dedicated to mental health, you're giving your students the confidence they need to raise issues they might be having. Run different events, workshops and meetings to provide the student body with all the information they need to consider their own mental health.
Sometimes, it can be something as simple as a coffee morning that provides the breakthrough for a student in need.
6. Coffee, Cake and a Chat
Speaking of coffee mornings, a conversation over a brew and a nice slice of cake can do wonders for someone's wellbeing. Host regular 'coffee and conversation' meet-ups and encourage attendees to talk about how they're feeling.
It's a safe space that's designed to give students the freedom they need to chat about whatever's affecting them.
7. 'How to Adult' Sessions
Sometimes, a student's anxiety can stem from the huge change of moving away from home. As well as their studies, they need to think about budgeting, cleaning, cooking, paying bills and more. It can be a lot.
This is why 'How to Adult' sessions or videos can be so useful to students. Host events with experts that can help students learn these skills to make them more independent and happy.
8. Fundraising Events
Volunteering and charity work can significantly boost a student's happiness thanks to the feeling of good they're sharing with others. It can be a sponsored run, litter picking or something as simple as a bake sale. Let students get involved and encourage them to make a real difference.
This sense of community and purpose can have a very positive impact on an individual that might be struggling.
9. Smartphone Film Festival
Everyone has a smartphone, so why not encourage students to use them to film their very own Citizen Kane? It's a great way for students to get their creative juices flowing and you could even hold your very own awards night. Set a theme and some rules, or let everyone just go wild, the choice is yours.
10. Open and Anonymous Discussions
For many students, the problems they're going through are deeply personal. This can make it difficult for them to talk to anyone they know about them. To help them, run drop-in sessions where students can anonymously talk to trained mental health professionals about the issues they're having.
11. Confidence and Communication Workshops
Everyone finds it a little tricky to talk to new people and that's especially true if you've moved away from home to attend university. Host communication workshops that teach students the most effective ways of talking and working with strangers.
Let the students practise on each other and you might find new friendships are born as a result.
12. World Food Day
A university or other type of higher education institution is usually home to people from all over the world. If a student has come a long way and they're feeling isolated, then their happiness can suffer.
Host world food days to celebrate the multicultural society you have. Students can bring food from their home nations or pick a completely new one at random. It's a celebration of a global community and is a great way to explore horizons.
Happiness is part of the wider student experience which you're responsible for at your school or university. It's important that you're proactive when it comes to student wellbeing and you take steps to reduce stress and encourage positive working to create an environment that students love.
Improve Student Experience With Our Guide
We've created a free resource that's packed with tips and advice to help you address student wellbeing and happiness. It can help you to develop an effective student experience strategy and improve overall engagement.
Get your free copy now using the link below.