WISE Guest Blog Post: Celebrating One Million Women in STEM in the UK
Tatiana DeBerg
·
2 minute read
1 Million Women in STEM
For the first time ever, there are over one million women working in core-STEM roles in the UK. Government data shows that, as of the end of December 2019, there are just over a million women (1,019,400) in core-STEM – representing an increase of over 350,000 in the last ten years and meaning that women now make up 24% of the core-STEM workforce.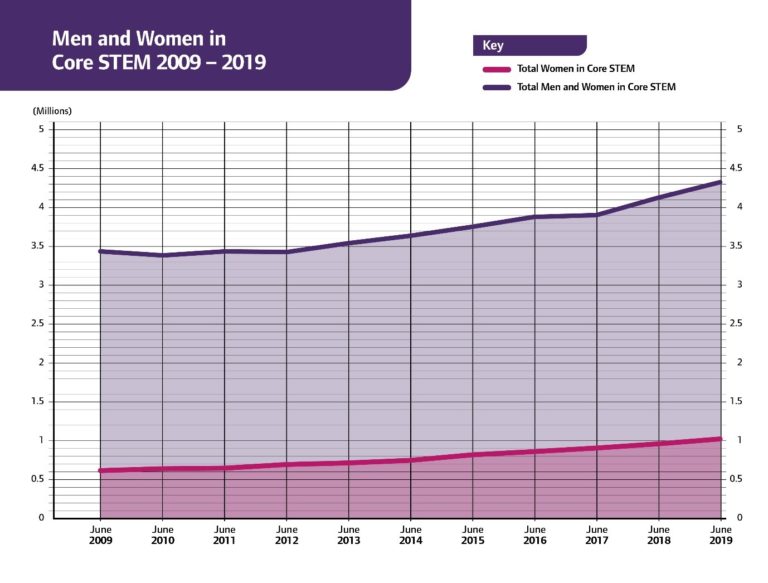 Women in Engineering
There are now over 50,000 women in engineering professional roles – almost double the number ten years ago (2009). Science has also made significant progress with women now in touching distance of representing 50% of science roles and the number of women in STEM management roles has increased to 14%, which could help encourage others to enter the profession. However, progress has not been equal across core-STEM.
Women In Tech
Whilst the number of men in tech roles has jumped by 60,000 in the past year, there are 180,000 women in tech (IT professional) jobs in 2019, whereas there were 181,500 in 2018. Overall, the proportion of tech roles filled by women has flatlined at 16% since 2009 – so further action is needed to encourage more women to get into a category of jobs which make up a quarter of the STEM workforce.
Core-STEM
WISE are looking ahead to the future growth of women in core-STEM. Our projections from the last ten years of workforce data show that by 2030, on current trend we will almost be at 30% of core-STEM roles being filled by women –1.5 million women in total. Evidence suggests that 30% is the 'critical mass' level at which a minority group of women becomes able to influence real change.
WISE
At WISE, we know from our members what works, and we are here to help other employers understand what they need to do and help them create action plans, including targets, to improve their workplace culture. Directors and board members need to take responsibility and be accountable for creating an inclusive workplace culture and helping their middle management to deliver it.
Gender Diversity
The business case for greater gender diversity shows that companies are more adaptable, productive and responsive to what their customers are telling them. Employers need to be clear; to get ahead in STEM, they need to recruit, retain and develop female talent – failing to do so will mean being left behind.
Join me for a special keynote session at The Women in STEM Conference 2020, where I will explore the most recent workforce statistics for STEM roles further, share future growth opportunities for women in core-STEM and strategies needed to ensure continuing growth across the field and outline what industry can do to attract, retain and encourage more women into STEM and achieve gender parity.
This guest blog was written by Deborah Kelly, Partnership Manager at WISE. Join us on 24th November 2021 at the Women in STEM Conference in Central London by clicking below: