'The HR & OD profession has the power to transform people's working lives for the better'

Cheryl Samuels, Deputy Director of Workforce Transformation - London Region and Chair of Deputy Directors of HR Network, NHS England & NHS Improvement
When injustice becomes the norm, it is absolutely our duty as professionals to challenge existing practices and systems, whilst amplifying the voices of the unheard championing best practice.
An essential part of Leadership is to influence, lead and empower others so they have the best work experience. The role of leadership is even more important when positioned within the HR function. HR is perceived as the heartbeat of an organisation that sets the tone and influences the behaviours of those entrusted to lead diverse teams, which is why it is so important that HR provides leadership on diversity and inclusion with real credibility and authenticity.
When we lead by example with visible diverse leadership, we create a sense of hope, faith, and confidence that there really is equality of opportunity with quantifiable business benefits. These impact our staff, patients and external stakeholders.
The NHS is the largest employer in the UK and we are making a concerted effort to address the inequalities that exist so that staff experience a genuine sense of belonging and inclusion. This is in line with the NHS People Plan and the London Workforce Race Strategy which recognises the racial inequalities found in the NHS, and sets the ambition to achieve greater inclusion in a way that looks and feels different. This is further cemented by the current NHS Future HR Review which is engaging with the HR profession to re-imagine a more inclusive future, where everyone has the opportunity to prosper and realise their potential.
The London NHS community of HR & OD leaders, in conjunction with the Healthcare People Management Association (HPMA) and the London Deputy Directors of HR Network, have committed to becoming more inclusive, and to take proactive steps as leaders to shape and change the experience of those from an ethnic minority background.
Since publishing my article in People Management, March edition it has been viewed and read thousands of times via various platforms. We have taken proactive steps to lead by example and to support the HR leadership within the NHS to be more visible, vocal and deliberate in their actions to improve the work experience of HR & OD professionals from an ethnic minority background. This will raise the bar for all HR & OD staff irrespective of their protected characteristics.
Last year the HPMA London Academy, in partnership with the Deputy HR Directors Network, commissioned an external consultant - Synergised Solutions Ltd - to undertake independent research into the lived experience of Black, Asian and minority ethnic HR/OD professionals. The research findings and the actions being taken to address the recommendations are outlined in detail in the following link; www.hpma.org.uk/2020/12/14/launch-of-final-report/
In 2021 we launched a social movement for change using the hashtag #InclusiveHR on Twitter, where we have promoted the positive and deliberate steps the HR & OD profession is taking to promote and advance equality and inclusion. Some of the actions are summarised below;
Senior leaders have been encouraged to make public pledges of commitment to advance inclusion within the HR & OD profession.
Senior leaders have reflected and written personal stories of their journeys which demonstrate their understanding of racism, discrimination, and white privilege. Through their authenticity and vulnerability, they are shaping the culture and encouraging others to speak up and share their own learning journeys. These have been published publicly as part of a series in the National HPMA newsletter - https://www.hpma.org.uk/newsletters/
An "Advocates and Allies" group has been set up to support leaders and provides a safe space for discussion around race, privilege and discrimination.
A Resource Hub 'Realising My Potential' was launched on 26 April 2021 to close the inequality gap and support good quality career conversations. It includes a wide range of information, hints, tips and prompts to support all HR and OD professionals achieve their development ambitions and career aspirations - https://www.hpma.org.uk/london/london-resource-centre/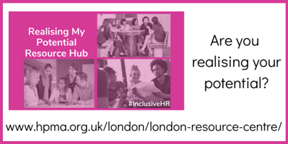 It is no longer acceptable for HR & OD leaders to remain mediocre, as they are critical to any organisation. The pandemic has illuminated racial inequalities in the most stark and obvious way. The time is now right to ensure the legacy we leave behind is to take action to improve the current reality, so we can lead our organisations with authenticity and credibility.
We would like any public sector organisations with a HR & OD department to join the social movement for change and share the actions they are taking to lead with credibility - #InclusiveHR