It's been a week since the CHEFE Team (Charity/Voluntary, Higher Education and Further Education) started working from home. Some of us have stayed in London whilst others have traveled back to their hometowns. Below we share our reflections and top tips for successfully working as a team whilst scattered across the country and working remotely.
Callum Clark, Head of Programme:
Working from home in Skegness, Lincolnshire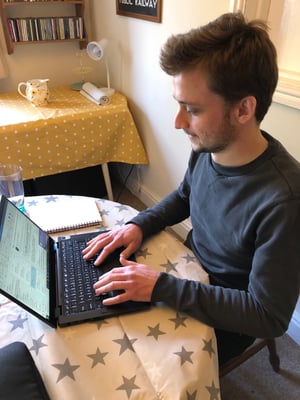 In the first week working from home as a wider team has been something of a novelty. Yet, whilst there is a change of scenery and a significantly reduced commuting time – there are things you miss about office life, whether that be a quick catch up on an upcoming event, the team spirit or even just the friendly chat about what you were up to at the weekend.
My top tips on a successful work from home experience would be:
Over-communicate – Ensure your team members know what everyone is doing and the overall goals we are working towards. Working virtually means transparency and clear aims are vital to getting things done.
Stick to a routine – When working from home you may miss the usual rhythms of working life. Its key to make sure you have a regular working pattern and stick to it. This is important to ensuring work-life balance and maintaining productivity.
We're all in this together – Everyone is in the same situation and facing the same challenges. It's important to remember to maintain the social connections, communication and team identity when you are apart, to ensure everyone is working with purpose, but also to ensure you support each other's mental health and wellbeing whilst working virtually.
Sarah Lewington, Marketing Manager:
Working from home in Palmers Green, London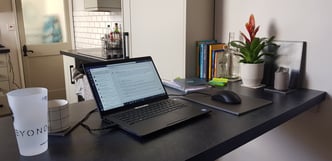 I've personally always been a fan of working from home, but this is of course, slightly different.
On average I'd say I WFH about once a month, normally using this time to really knuckle down on some content or email marketing copy. This time around, I'm finding myself on the phone more (battling with my poor signal at home), and having group meetings on Microsoft Teams (still nice to see and hear from the team regularly!)
My top tips would be:
Stand up/move around more: I choose to work from my kitchen breakfast bar, making it the perfect height for me to have the standing desk I always wanted!
Stick to your routine as much as possible: I still get up the same time as usual (give or take a 15-minute snooze!), try to work out in the morning, make a healthy breakfast etc. I find this really helps me get into work mode.
Get outside (if you can, and safely): a brisk walk at lunch time, or faffing about in the garden is helping to keep me sane!
Becky Clark, Senior Programme Manager:
Working from home in Brixton, London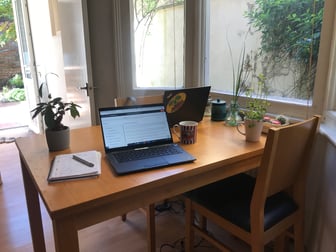 Optimising working from home efficiently for me is focused around two key factors – self-wellbeing and team collaboration.
Take virtual breaks with colleagues. I used to take 5-minute tea breaks with my colleagues to have a much needed few minutes away from work – now I do the same but virtually.
Maintain constant communication. Have regular check in calls with your colleagues so you're aware of what each of you are currently working on and what needs to be completed across the team.
Share feedback across the team. Ask your team members' thoughts on your work and ideas. It's easy when you're working from home to focus too much on independent working, but it's important to remember the expertise your team members have and to utilize that.
Optimise collaborative working from home tools. Whether it's teams, google docs or Asana – just make sure everyone's on the same page.
Take a short walk during your lunch break. It's so important to get away from your desk and get some fresh air!
Robert Christie, Marketing Manager:
Working from home in Solihull, West Midlands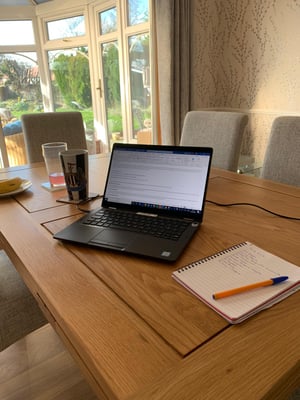 I've been working from home for one week now, and with my house being empty throughout that time I've found these tips were key to stop me from losing it:
Make a routine and stick to it. This is standard anyway, but it also extends to your home life, and since the two have become inexplicably mixed for the foreseeable future, I've found it gives me back some control and helps to relieve stress. Make a to-do list every morning for what you can honestly achieve that day, tick off each as the day goes by and reward yourself.
Ensure you take breaks. It's easy to stay at your computer or desk for the entire day, but don't neglect the fact you've got to take breaks. Go make a drink, stretch, go for a walk (or stick your head out of the window if you're having to isolate), read or paint; remember that you're still you at the end of the day, you have your own interests and identity and that hasn't been taken away from you.
Have some background noise. Right, this doesn't have to be a deafening sound that stops you from working, but I've found having the radio on with people talking and sharing their own isolation experiences is weirdly quite comforting. Plus I liked listening to music when I was working before. Remember we're all in this together.
Stephanie Brosnan, Marketing Assistant
Working from home in Teddington, London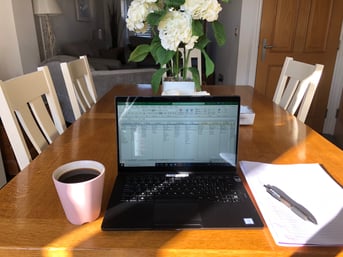 This is my first experience of working from home and to be honest, I am still adjusting to this way of working. Mainly because I miss the social interaction of the office, anyone in my team would agree when I say that I am someone who loves to talk. However, what I have realised is working from home is not working from the moon! I am still as connected to my team as ever and through videoconferencing, document sharing and instant messaging we are continuing to work hard and achieve things.
My top two tips for working at home:
Get Started Early: Dive into your to-do list straight away. Make yourself a cup of coffee, log on and start working; only make breakfast when you have hit a wall or need a break. A proactive morning is the key to a successful day.
Don't work in your PJs: Even though you may not be leaving the house, dress for work as if you were heading into the office. Getting out of your pyjamas will get you mentally and physically prepared for the day.
Tatiana de Berg, Programme Manager
Working from home in Tooting, London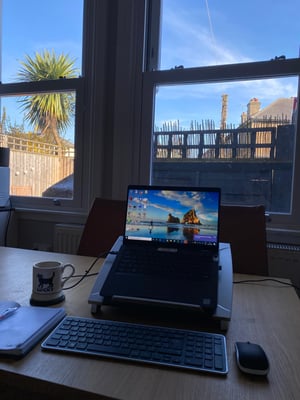 I have always enjoyed working from home, away from the distractions of the office I feel I can really get my head down and get into my work. However, working from home every now and again cannot prepare you for working from home all the time. In the past week I've learnt a lot about how I work best, these are my top tips:
Set up a comfortable working space. This is so important, make yourself a working space in your home, where you're away from any distractions and can be really productive. I find working away from the bedroom really important and in a room with lots of natural light. For me this is in my kitchen, where I'm also away from my partner who's working from home and on lots of calls in the living room. Here, I am least distracted, although I have definitely started consuming more tea and biscuits!
Communicate, communicate, communicate. In the office I always like to chat things over with the team, or catch up with them about how their weekend was. This is even more important when you're working from home. I've found over the past week that I've been communicating even more with my team, using new means such as Teams and calls. Checking in with them not only about work but also about how they're doing. This has definitely helped me to feel more connected and I think it's something we'll do more once everything goes back to normal.
Ruadhri Carroll, Content Executive:
Working from home in Sudbury, London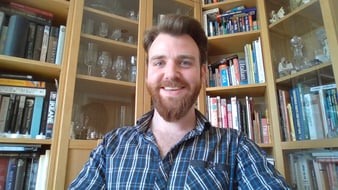 Being told you'll be working from home for the foreseeable future after just two days in a new job might cause some people some problems. Luckily, those two days in the office gave me just enough time to get to grips with my role and get all the necessary software up and running; and I'd be lying if I said three years' experience freelancing in a remote capacity isn't coming in very handy. Here are three top tips that have helped me retain some degree of sanity working from home over the years:
Do meal prep. Set some time aside on Sundays for meal prep to give yourself something to look forward to at lunchtime.
Talk to people. Use your breaks to chat to your housemates or give someone a call for a quick catch-up; physical distancing definitely shouldn't mean social isolation.
Get your exercise in. Do yourself a favour and use that time you're saving off the commute to get moving. Make no mistake, this one's crucial for a healthy body and mind.
We hope you enjoyed this blog! Over the coming weeks we'll be producing more content about the Voluntary, Higher Education and Further Education Sectors and the implications of Coronavirus. Follow our twitter pages: @IG_HigherEd @IG_Voluntary or join out LinkedIn Groups IGHigherEducation and IGVoluntary to keep in touch and be the first to read our new content.